Diagnoses
What we can help you with
Family Physical Therapy's skilled therapists will evaluate and develop a comprehensive program to treat a wide range of injuries, conditions, and disorders. All ages, from school-age to the elderly, can expect personal guidance and attention as they progress through their programs.
Orthopedic Injuries
Sports Injuries
Joint Replacement
Neurological/Balance/Vertigo Disorders
Work-Related Injuries
Back and Neck Pain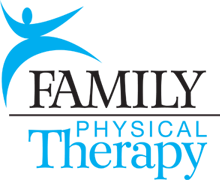 Improve how you move.
Testimonials
My experience at Family Physical Therapy has been wonderful and successful. Dan provided one-on-one therapy every step of the way. My back feels better than it has in a number of years."
- January 2013
"I appreciated the personal interest taken and all that Kate did to help with my recovery."
- February 2012